GDC2015 – experience to remember
by Billy
March. 12, 15
01 Comment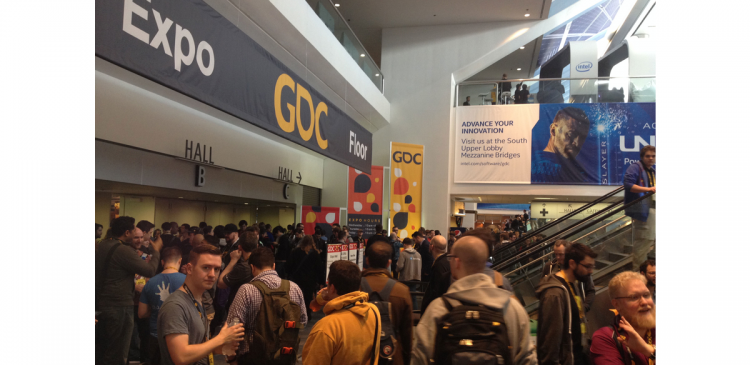 GDC 2015 is already behind our backs and now I have the chance to share my impressions from the whole experience. It was my first time at GDC, although our team has been an exhibitor for the last three years. Actually, it was my first time visiting San Francisco, so you can imagine how excited I was about the town, the conference and the warm, sunny weather.
If I have to pick up three words to describe GDC they will be loud, exciting and multinational. Moscone Center looked like a big hive full of excited, chattering people from all around the world- UK, Spain, Italy, Japan, China, South Korea, USA, Canada, Chile, Uruguay and many more.
The GDC expo was divided into two parts – North and South Hall. In the South Hall, the largest technology vendors were presenting the latest innovations in gaming technology, while in the North Hall was GDC Play where you could try out new games and meet with game development studios. Our partners from Stompy Bot had a stand in Google Play! It was awesome to meet with the team and check out the latest updates in Heavy Gear Assault! (check out Heavy Gear showcase here)
We, as a technology vendor, had a booth in the South Hall, so I had the chance to visit the amazing booths of all the giants in the gaming industry- Sony, Microsoft, Unreal Engine, Unity3D, Cryengine, Oculus, etc. Each one was trying hard to attract the attention of the thousands of fans wandering around the halls. There was music, there were light, monitors, presentations, announcements.
Naturally one of the hottest topics at GDC was VR. There were hundreds of VR enthusiasts, new VR headset providers,VR game studios and VR magazines! I, myself, spoke to at least 12 people who planned to develop a product in VR.
The most exciting experience, however, was to be able to talk to and share experience with leaders and innovators in the gaming industry. I met with people who have been working on some of my favorite games!
GDC was a little bit crazy and I had a lot of fun. My meetings started every day at 10am and finished at 6pm! It was hell of a busy, emotional three days that passed away unbelievably fast! I found out that the best way to relax after such a crazy day was to open a cold IPA and enjoy the sunset over Golden Gate Bridge!
We had some really great meetings at GDC and we have so many exciting things to announce! Subscribe to our newsletter and follow us on twitter to be the first to learn the latest news about Coherent UI!