Odin, Freya and drunk vikings in Shield Break's game: Bierzerkers
by Billy
October. 06, 14
0 Comment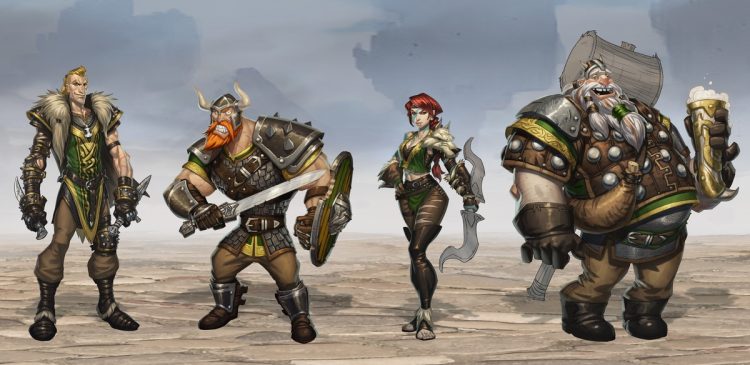 Hi, guys, my name is Billy and I am the new community manager of Coherent Labs. I am very excited to be part of such an awesome team and can't wait to talk to all of you. You can always tweet me at @BilyanaVacheva  and let me know which topics you want us to discuss in our forum and blog posts. For my first post, I chose one very fun game.
Have you wondered what would happen if you gather on the same team badass veterans from the AAA studios: Blizzard Entertainment, Riot Games, Activision and Certain Affinity? Your hopes are up, aren't they? And believe me, you will love this game. I certainly do so.
Bierzerkers is a brand new team-based, multiplayer, melée-combat game set in the Viking afterlife. Once the release of the Early Access version of the game is out (early 2015), you will be able to set massive battles of 4 vs. 4 players and choose between 4 awesome classes.
Oh yeah, and they are using Coherent UI for their entire UE4 HUD and user interface.
We talked with Vince Fennel, a senior game developer and co-founder of Shield Break studio. When asked about the story behind Shield Break and how come developers of Blizzard, Riot and Activision chose the sole developing path, Vince was rather sincere:
"At heart, we are a group of ex-AAA studio devs that wanted to do something on our own and are giving it our best shot."
Here's a sample gameplay video recorded prior to PAX Prime 2014 where the game was revealed publicly for the development team:

Don't you just love it? I was really curious on how did the team come up with the idea of making Bierzerkers and why they chose the Viking's topic:
"The idea originated with our love of competitive multiplayer games. When we started thinking about what we could do we felt that we couldn't really compete with the big shooter titles so we started to experiment with a more melee focused approach. Once that idea started to take hold the 'Vikings in Valhalla' setting came through very quickly and naturally, and also allowed us to give the game a light-hearted tone and a bit of humor."
The setting in the game is impressive with lots of details which combine fantasy with historic Viking's symbols:
Shield Break chose UE4 because as a small team with very limited resources, they needed a solution which would allow them to focus on content creation and polishing of the game. Here's what Vince said about choosing Coherent UI for Unreal Engine UI:
"We have decided to use Coherent UI because it's a solution that integrates quickly and easily with UE4 and allows us to again focus on the content without too much engineering work. There are all kinds of great libraries that exist that Coherent enables us to use so we don't have to rebuild features that are already common in the world of HTML…Coherent helped us get our UI looking great for PAX in an incredibly short amount of time. We had already done all of the concept work for the UI so once we decided to go with Coherent we were able to get that art into the game in a day or two."
What's next for Shield Break?

The game is now gaining huge popularity and we are so proud that they chose Coherent UI for the Unreal Engine UI. We can't wait for the launch of the game and we are happy to be partners with this great team!
If anyone is interested in participating in the ongoing process please follow them on Twitter @Shield_Break and keep an eye on www.shieldbreak.com. You'll be able to track the speed on development through those channels, as well as live streaming play tests.