We present you "Tabletop Connect", a Kickstarter project using Coherent UI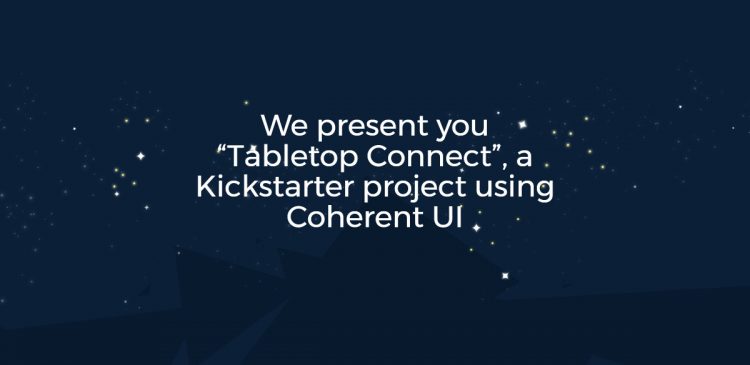 Tabletop Connect is a 3D virtual tabletop that lets you connect with your friends to play RPGs just like you're at a real table.
The Creator:
Carl Pinder is a veteran game dev,
who spent 15 years in the games industry
working on titles including Might and Magic,
Tony Hawk, Medal of Honor, Spider-man,
and Call of Duty.  His experience in the
hobby goes back to the early 80s.
The project:
Tabletop Connect is a system-neutral 3D virtual tabletop that lets you connect with your friends to play role-playing games just like you're around a real table.
Here's a look at setting up and running a session:
Tabletop Connect Sample Session
You play in a true 3D environment — with miniatures, terrain tiles, physics simulated dice, character sheets, and handouts — you can almost feel the dice in your hands.
Features:
Unlike the currently available virtual tabletops, Tabletop Connect puts you right at the gaming table. Use "real" 3D miniatures on maps built using terrain pieces, just like you would if you were gaming face-to-face. Even the character sheets and handouts have a real-world look, so you can organize them on the tabletop however you'd like.
Tabletop Connect solves the common gaming problem of, "what can my character see?" With real-time lighting and shadows, combined with line-of-sight,  you'll know for certain if you can see that goblin or not.
With automatic mapping, the underlying map is permanently revealed for any areas the players have seen. You can forget about manually setting a fog-of-war.
There is no need to be counting squares anymore. The movement cost for players is displayed right on the map. You can even customize the distances into color-coded walk, charge, and run.
The mapping software is fast. The click-and-drag interface lets you quickly layout your map.
Character sheets can be created from any source that can generate a JPEG or PNG graphics file. You'll be filling in your strength or to-hit numbers just like would on any real character sheet.
With 3D dice and real physics simulations, you'll have the satisfaction of rolling handfuls of dice for the big attack. Seeing the dice hit the table is so much more gratifying than seeing "10D6 = 32" in a text window.
There is No DRM. You can install Tabletop Connect on as many computers as you need. Keep a copy on your desktop computer and install another on your laptop for when you're on the road. However, you won't be able to use the same license more than once during the same session.
You can actually try it out, right now. With less than a week left – by making your pledge, you'll have immediate access to the alpha version and you'll continue to get bi-weekly updates throughout development.
Coherent UI:
Tabletop Connect uses Coherent UI as some of  our product's rich enhancements are being revealed. Take a look at the following two videos made by Carl Pinder:
Coherent UI from C. Lewis Pinder
In the second video, Carl demonstrates some cool Coherent UI features, such as having a tablet inside the game which is able to show PDFs, search the web, play videos, access online utilities, stream music and more. Enjoy it:
Tabletop Connect Experimental Features
Kickstarter:
The project has already reached 90% of its target with a whole week left. If you like the project, you can support it Here.
We would like to wish Carl good luck with this project as we are anticipating more to come! 🙂
Follow Angel on Twitter: @VenkovAngel