How can Coherent UI help you build faster and more beautiful in-game shop?

We'd like to share the story of ArenaNet developers who successfully improved the usability and the speed of the in-game shop in Guild Wars 2® by using Coherent UI.
The success story of the ArenaNet developers.
The Guild Wars® franchise, created by the award-winning US-based game developer ArenaNet, is one of the most popular massively multiplayer online (MMO) game series with millions of fans around the world. Games in the series have won many editor's choice awards, as well as awards such as Best Value, Best MMORPG and Best Game. Guild Wars was noted for the quality of the graphics, its instanced approach to MMORPG gameplay and for offering online play without subscription fees. The Guild Wars game series sold more than 12 million copies so far.
One major feature of the newest game in the franchise, Guild Wars 2, is the in-game shop (Black Lion Trading Post), which allows players to freely trade and browse items without leaving the game. Тhe team aimed for innovative and modern design with deeply immersive experience for the users. Implementing the user interface in HTML5 was the obvious choice to achieve these goals.
Last year the ArenaNet team got in touch with us, because they wanted to improve their current UI system. They were facing problems like slow loading speed of the trading post and they were lacking modern HTML5 features such as CSS and animations.
Coherent UI helped the team build faster and more beautiful in-game shop.
Coherent UI is a powerful HTML5-based user interface platform designed to accommodate the needs of performance-demanding AAA games. It is based on Chromium and supports the latest HTML5 features. It comes as plugins for Unreal Engine 4 and Unity3D, and can be easily integrated with any other game engine. Coherent UI tools can help game development teams to reduce the iteration process to a minimum. Live editing capabilities help designers to make styling changes in a matter of seconds and developers to quickly spot any scripting error.
ArenaNet developers managed to significantly reduce the shop loading time, replacing their previous HTML5 solution with Coherent UI. They were able to improve the in-game experience by adding beautiful UI animations and new useful features.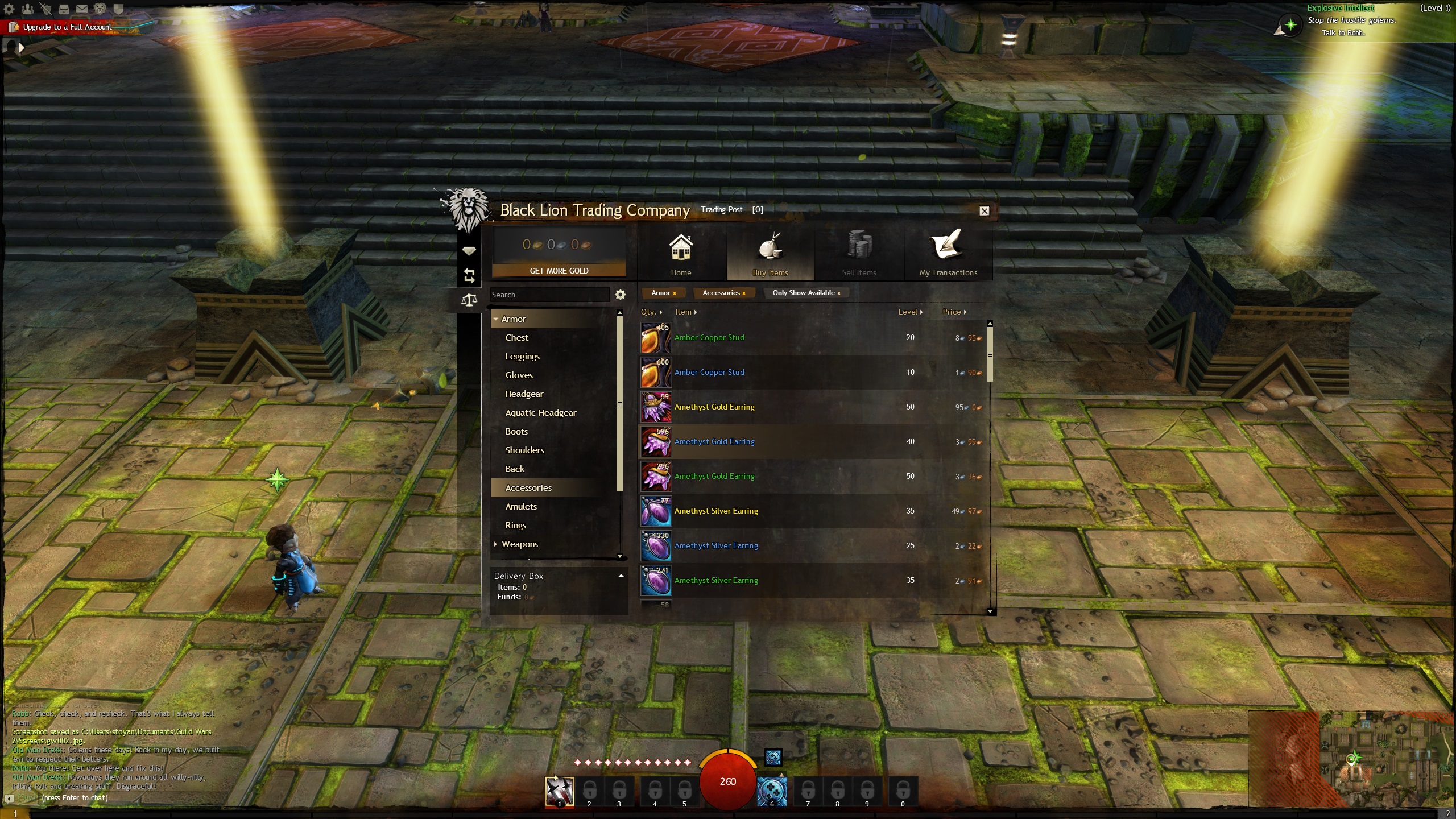 We reached out to Stephen Clarke-Willson, Studio Technical Director at ArenaNet to share his experience with Coherent UI.
– Hey, Stephen, why did you choose Coherent UI?
"We have great Web development talent which we realized we could leverage for in-game UI using HTML5. We had shipped 2 other HTML5 solutions and neither had the performance or the active support of Coherent so we made the switch and we've been really happy since."
– We are glad that you're so happy! Can you tell us what was your team experience with Coherent UI?
"Our internal UI framework had worked well for many years but we wanted to iterate faster. We started the process of HTML5 rendering with our in-game store. The early HTML5 rendering solutions we adopted got the job done but were awkward to maintain. Once we switched to Coherent UI with their excellent tech support we started to further expand our UI productivity by using Coherent UI in more scenarios. Our game launcher uses Coherent UI and some in-game elements for our expansion use Coherent UI. We're excited by the speed with which we can now move from prototype UI to final UI using connections to in-game resources including 3D art."
The Outcome
Once ArenaNet released their new trading post, both the team and the players were happy and satisfied with the new in-game shop.
If you want to hear from the developers themselves, here Josh Galvin – a Web Programmer, and Evan Zynda – QA Principal of Guild Wars 2 talked about the new trading post using Coherent UI. They even made a short demonstration of how you can use the Coherent UI Debugger to reduce the iteration process and make changes in the UI while the game is still running.
Awesome, right?

Go ahead and share your success story using Coherent UI with us. We will be glad to hear from you.