How is bad UX hurting your monetization
by Billy
February. 22, 16
0 Comment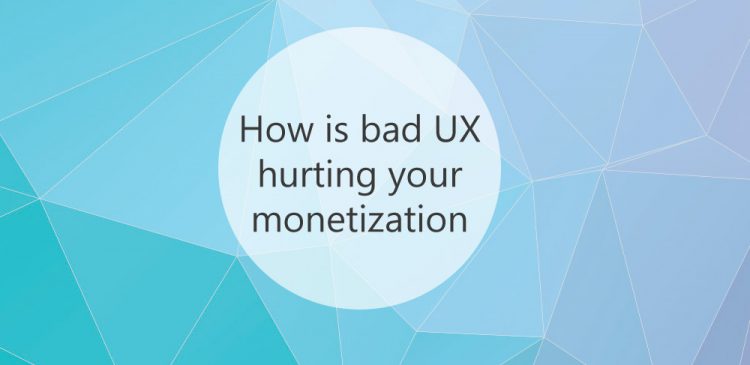 Two days ago I installed a new mobile game on my LG G3. I am already hooked on several mobile titles, mostly on Hay Day, Fallout Shelter and Mortal Kombat X, so I don't have a lot of time to try new games. Still, this game seemed intriguing and I had some time while waiting for the bus, so I decided to give it a shot.
When I opened the game, I saw the main scene but the UI was missing. It took maybe 4-5 seconds for the UI to appear. I was not quite sure what I am supposed to do, whether I should wait for a tutorial to start or I should click somewhere. Оnce the UI was fully loaded, a tutorial started and I was ready to learn my way through the game. I had quite hard time getting around as some of the menus were not intuitive at all. I actually had to click on every menu in order to find the information I was looking for. The tipping point however was when I opened a menu to see the players' stats and the UI crashed which caused the whole game to crash. At this point, my bus arrived, I had to put my phone in my pocket and that was the first and the last time I played this game.
Mobile game developers pour thousands of dollars in marketing to attract new players and convert them into paying customers. However, if the game does not provide a great user experience, all is in vain – the players will leave. I'll explain in details what went wrong with my experience and what studios should be looking at to guarantee great UX and improve monetization.
I don't have time for slow UI!
Our daily lives are so busy! In a typical day, I have so many "to-do-s" that I have only few minutes of free time in between them. In order to hook me up, a game should fit well in my lifestyle. I should be able to check on my progress or play a quick round for a minute or two. It really bugs me when the user interface is slow and I should wait for it to load. There are so many games out there, that I have become very picky towards such small inconveniences. Most players nowadays think and behave in the same manner as I do.
One of the main problems studios should focus on is how to create user interface that runs with 60 fps at any point of the game, both on iOS and Android devices.
Some studios overcome the problem by adding a loading screen in between scenes. It gives time for heavy-UI screens to load, but it does not solve the actual problem – the user still has to wait in order to continue playing.  
I don't understand what is going on!
When beginning a new project the UI designers review the user interface of similar games to get ideas and see how their competitors handle the game UI. They try to come up with creative, unique UI designs. However, designers should keep in mind that the players are used to certain patterns. If the patterns are drastically changed, it will be extremely hard for the players to navigate through the game. Ultimately, this will lead to a frustrating experience and may push the players to leave a negative review in the stores or even remove the game.
Making the players feel stupid is a bad user experience and definitely will negatively reflect on the game.
The case with me and the game I mentioned earlier was identical. The buttons and the items inside the menus were ordered in a different way than in most games from the same genre. I was confused and I felt as if I am missing something obvious.
Why are you showing me this right now?
Has this happened to you? You are playing a game and right in the middle of the gameplay there is a pop-up asking you to buy something or watch a video. This is an example of very poorly executed monetization strategy. Instead of pushing the player to purchase an item, the messages are intrusive and breaks the user experience. Even worse case scenario is when the UI screen is misleading, you are in a hurry to continue playing and you click on the wrong button. Such things really drive me crazy and I can bet that many other players feel the same way.
A great examples of a game with a good monetization systems is Hay Day by SuperCell. The game empowers the players by giving them the right to choose when to watch a video in order to win a prize.
Oh, no, the game crashed again!
If I have to name the most unpleasant user experience for the players, I would say UI crashes. Games in which the UI crashes and makes the whole game to crash are the most frustrating ones. I already mentioned how impatient the players are. If a game crashes several times and needs a restart/reinstall every time, it's very likely for the players to give up playing the game.
I would like to share a citation from the Racing Rivals forum. The Glu team has done a great job with the graphics and the gameplay of this game but have had a hard time with resolving game crashes on iOS. Here is how the players feel about it:
"Is there ever going to be a fix on the constant crashing? ….The turbo and supercharger events takes forever to load up the garage and game itself. I have an iPhone 6 Plus 64gb one of the best phones in the world. Why is this the only game that crashes on my device every other race? It's not my device I even had it checked at Apple, Apple said everything is fine. Csr, NITRO NATION, Asphalt 8, are some high graphical games and not once did they crash on me. Do you have secret adware so you can get paid for loading the game up? Will there be better sort options for turbo and supercharger? Will the cancel race button be back in turf? Waiting 30 secs to forfeit a race is ridiculous it makes the game go slow as heck and having the same guy race you over and over and over is a bit annoying."
Getting user flow and UX right is crucial to ensure maximum monetization of your title, especially if it is a free to play game. How could you make sure that the problems mentioned above will not appear in your game? Having a high-performance UI on the full range of targeted devices is a must. Also, constantly A/B testing and iterations of the UI will help you discover what works best for your players.