Take part in the Games of Glory – а great MOBA game on Kickstarter!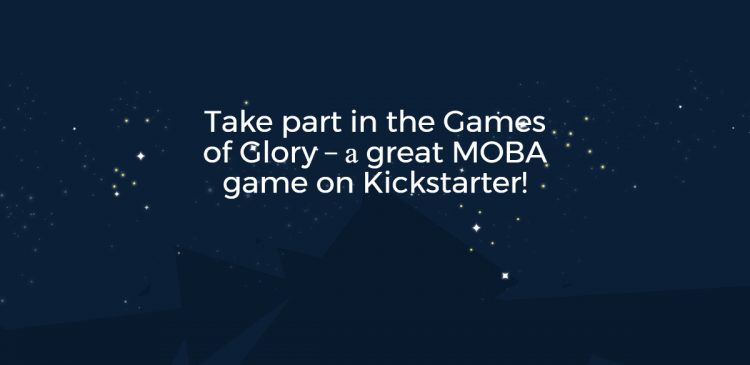 We are in the peak of summer 2014 and while some of you are taking a vacation on the seaside or mountain resorts, others are releasing great Kickstarter campaigns 🙂 Well, I guess there is always a balance.
Today I would like to introduce to you Games of Glory – a new generation of MOBA games, created by Lightbulb Crew. The Games of Glory are the gladiator games of the Synarchy, the intergalactic empire controlled by the seemingly all-powerful Synarch. The Synarch imposes peace over all in his dominion, and protects them from the Exoi. The Games of Glory serve as an outlet for citizens to blow off steam as well as a medium to resolve large-scale disputes. The winners gain fame and money, as well as political influence.
I'll come later back to the game, first let's see what Anders Larsson, company's CEO has to say about the story behind the team and the idea of the game:
" I started thinking about starting a video game company back in 1997 together with one of my friends from University, Johan Wirde. Life got in the way, but 15 years later I started thinking about it again. I felt there are still many ways to improve the game experience, despite all the many great games out there. I found Sacha, my co-founder as I was looking for someone who shared the same ideas. In the end we were also joined by Johan, our CTO, who was the same guy I wanted to start my video game company with now 17 years ago. Better late than never!" Better late than never indeed.
Built with Unity3D, using Coherent UI user interface engine.
"We chose Unity for its support of multiple platforms, as well as the utilities in the app store. For example we wanted to be able to release simplified versions as mobile game clients for spectating. At the time it was really only Unity that could do this.  We had a very specific problem to solve in our UI: for one of our features we needed to be able to change textures in run-time, e.g. to update a flag or a screen with a team-logo etc. We came up with using web technology to do this, and started looking around. We tried out a few different solutions, and Coherent UI was by far the highest quality one. Once we succeeded with this limited feature, we realized we could use web to access all our menus outside of a match. This makes it easier for us to then be able to reuse these menus outside the game client."
Coherent UI is an HTML5-based multi-platform user interface engine for games. Hundreds of projects and thousands of developers are using Coherent UI to create beautiful and interactive user interfaces for their games using familiar tools and process. Developers enjoy natural design-oriented workflow and fast iteration time with live editing, which helps them shorten time-to-market. With partnerships with companies like Unity and heavily investing in original R&D, Coherent Labs is in the best position to help developers building the next generation of awesome games like GoG.
Why MOBA, why Games of Glory?
When asked how did they come up with the Games of Glory idea, Anders explained: "We want to make games for the hard to mid-core gamers, that also brings in various social aspects into the core game play. Games of Glory is exactly like that: a game with core game play that emphasizes skill, but where the focus on clubs and a persistent universe gives lots of opportunity for meaningful social interactions that become key to the experience of the game. We were influenced by many different genres, MMOs, hack & slash, shooters, and also the large MOBAs. Our key challenge was to find the balance between all these genres. We decided to leave out some of the core aspects of traditional MOBA and focus on a faster and more faster action game play."
The game play does seem amazing. A player will be able to impact the future of the Synarchy by choosing to support different Factions. A player with more fame will have more impact over the future of the Synarchy, but everyone will be able to influence its direction. Each conflict will take place over a certain time, and as the winning Faction is determined, the game world will change.
Also, players will be able to discover the stories of the Synarchy through various quests related to the different Factions and Clones. Some of the themes will be:
– Expansion of the Synarchy: Will the Synarchy invade new planets, or will they manage to remain independent?
– Personal vendettas: Who is the most glorious/evil/magnanimous of the luminaries in the Synarchy?
– Trade rights and monopolies: Who will gain access to the riches of scarce minerals and exotic aliens?
Combat Mechanics
Part of what sets GoG apart are its controls and the ability to change weapons within the match. The team has put a lot of thought into creating weapons with different types of game play, like shotguns that push back enemies, weapons that slow, do area of effect damage, etc. There are around 50 different weapons. Each Clone comes with a set of unique abilities that allows for many interesting combinations based on team members, enemies, and weapons selected.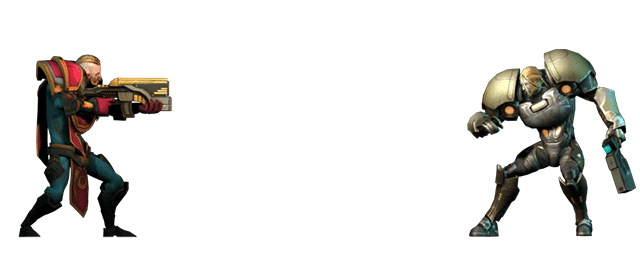 Character Customization
Lightbulb Crew are truly focused on giving the community the chance to create their own content. The first step is to give the ability to personalize Clones with different skins. In addition to skins with different mix-and-match parts, they are also creating Club Skins, where players can create their own unique Club "clothes". Here are just a couple of "teasers".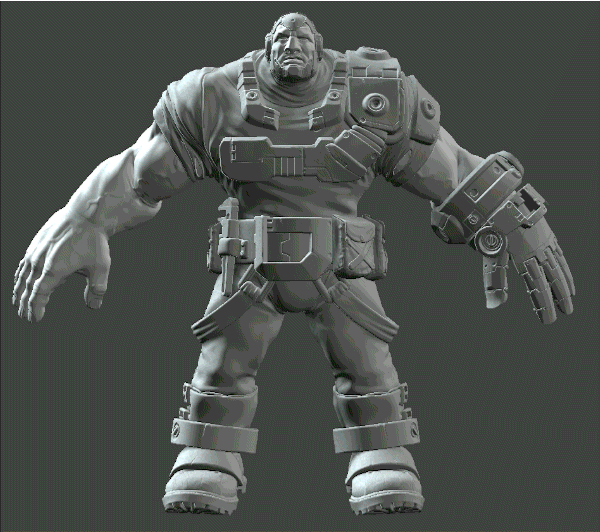 DEADBALL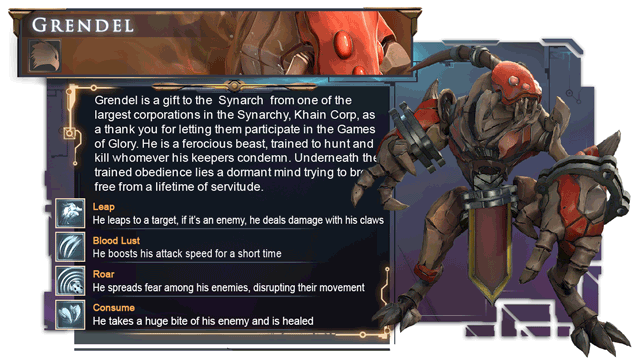 GRENDEL
Let's give them our support!
This is definitely one of the most intriguing ongoing projects I've seen and I can't wait to see how will its development turn out and get my own hands on playing Games of Glory. Please support our friends in their Kickstarter campaign Here. They have plenty of surprises for all backers.
See you in the Arena!